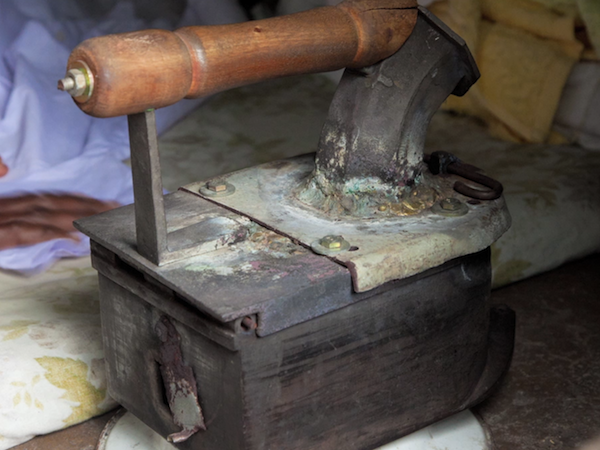 In a locality where washing lines heavy with colour light up even the most mundane landscape, Navam Mawatha's laundry seems a nucleus of sorts. Surrounded by banks and plush office spaces, the old laundry, sitting on prime real estate, remains virtually unchanged since its creation in the 1920s. It consists of two sturdy rows of stone basins for washing and a field strapped with washing lines, all surrounded by a boundary of small numbered rooms which, at that time, used to be occupied by close to 200 dobis, Sri Lanka's own caste of washer-men. But as little as the laundry itself has changed, the environment around it and within it, has.
We encountered W. Siripala – or Dharmadasa, as he preferred to be called – in one of the small rooms, as he was ironing a batch of clothes one afternoon. The apparatus he used – although shaped like the modern iron – held within it burning shells of coconut instead of electrical wiring. As we asked him our questions, he rested the iron on a cracked, upturned plate and in his concise, unaffected manner, spoke of a time and a profession that was fast disappearing.
Read more about Siripala and watch his video here.
Produced by Sharni Jayawardena and Tarika Wickremeratne, as part of Walkabout: Slave Island. Watch the trailer to this series below, and visit the Moving Images website for more stunning content on Sri Lanka.