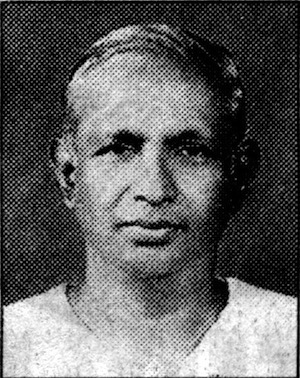 Tambiaiah Sabaratnam (1932 – 2011)
Veteran journalist Tambiaiah Sabaratnam, who has died aged 79, was a pathfinder and leading light in Sri Lankan science journalism for over a generation. Throughout his long association with the English and Tamil press, he advocated the pursuit of public science: tax-payer funded scientific research for the benefit of the people and economy.
Having joined the Thinakaran newspaper in 1957 as a trainee journalist, he switched to the English media in the late 1970s and retired as Senior Deputy Editor of Daily News in 1997. His 40 years at Lake House — the country's largest publishing house, nationalized in 1973 — spanned eight governments. In retirement, he remained active as a columnist, journalist trainer and author.
He was a source of inspiration and encouragement to me during my early years in science journalism. Our paths crossed often in the late 1980s and early 1990s when he and I covered many of the same scientific events. He was approachable and helpful, but I could never bring myself to call him 'Saba'. When I knew him, he had already been in journalism for longer than I'd been alive. To me, he was always 'Mr Sabaratnam'.
He reached out despite our generational, media house and other divides. He was genuinely interested in my progress as a science journalist, and offered me advice on both style and substance. Occasionally, he also cautioned me about various 'pitfalls' in the local scientific scene  personal rivalries, exaggerated claims or oversized egos.
Although he wrote features and columns, and even authored biographies of political personalities in his spare time, he remained a news reporter at heart. He was not only very well informed about the twin spheres of politics and science, but also had the dexterity to get to the heart of any 'story'.
Because he covered both politics and science, he often placed science and technology stories within a wider social and economic context — as indeed they should be. He was generally supportive of researchers and their institutions, but called for rigour and relevance in their output. Press officers or senior scientists could not charm him into giving favourable coverage –- he demanded proof, albeit in the nicest possible manner.
Precise and brief
For many years, he wrote a weekly column called 'Science Notes' in the Daily News. As a scientifically inclined schoolboy in the 1980s, I grew up reading (and collecting) it. As a young science reporter with a rival English daily (The Island), I followed it diligently as an ideal standard.
His writing style was simple, precise and brief — his prose was eminently readable in the classical Reader's Digest sense. When he expressed opinions, sparingly, they were measured and optimistic.
That was the hallmark of Sabaratnam: he had a childlike enthusiasm for people and issues – both political and scientific. The latter is a harder 'beat' to cover in the media: science is widely perceived as an esoteric pursuit carried out in sterilised laboratories or ivory towers of academia. Similarly, its practitioners are seen as far removed from the real world, churning out research papers that no one else could understand.
Sabaratnam could sift through reams of scientific papers and tons of jargon, and distil the essence into a few well crafted paragraphs. He looked for the bright sparks – young and old – trying to solve national problems using the methods and tools of science. Ph Ds of irrelevance didn't impress him.
If Sabaratnam was unassuming as a person, he was proud as a journalist and upheld the dignity of his profession. He ignored the arrogance of certain senior scientists who tried to dictate to journalists what to report, and how. As journalists, he used to say, our job — first and last — was to serve our readers. Despite being a good Hindu, he had no 'sacred cows' in his journalism.
I learnt much from him, including how to be courteous without being obsequious. Once Sabaratnam and I jointly interviewed Professor Dayantha Wijeyesekera, who was then Vice Chancellor of the Open University of Sri Lanka where I was a student. When the genial engineer entered the room, Sabaratnam was quick to notice my dilemma. He quipped: "As a journalist, Nalaka won't stand up for you. But as your student, he is wondering what he should do!" (I remained seated.)
Scientists and their institutions respected him for this independence. When the Sri Lanka Association for the Advancement of Science (SLAAS) started an award scheme in 1986 to recognise the best science writing, Sabaratnam of Daily News was the most deserving first winner in English.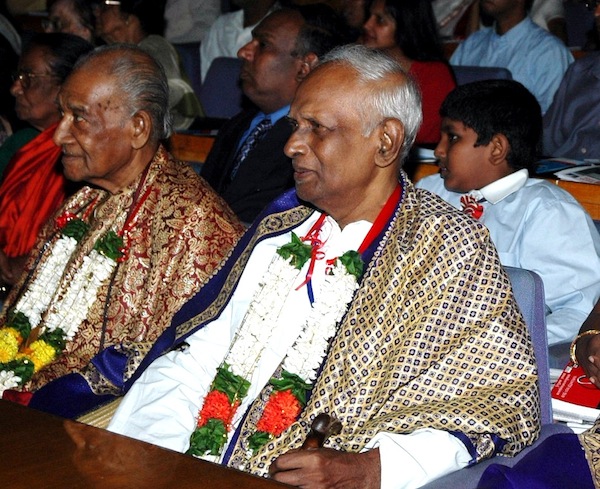 T Sabaratnam felicitated at Journalism Awards for Excellence 2007. Photo by DushiYanthini Kanagasabapathipillai
Bigger Picture
Unlike many of his peers, Sabaratnam didn't turn cynical after bearing witness to so much of hypocrisy, duplicity and wrong turns in post-independent Sri Lanka. Neither was he in denial, the favoured option among many journalists and editors in the state controlled media. He was acutely aware of the political undercurrents constantly sweeping across our island. He covered the ethnic tensions from the early days, and chronicled political manipulations that fuelled these into a full scale civil war.
It can't have been easy to tell this unfolding story within the confines of a state-run media house that switched allegiance so completely each time governments changed. I never asked him about this, but remember him saying that determined journalists could 'always get the story out'.
Predictably, Sabaratnam the columnist was more opinionated than Sabaratnam the news reporter. In the wake of a series of dastardly attacks on newspaper editors and media houses, he wrote in January 2009: "If the present situation had prevailed in 1957, I would not have chosen journalism as my profession. Those were placid days, when an occasional murder, somewhere in the country, was big news, meriting page one display in newspapers."
Those 'placid days' now belong to another time in another century that recedes further from us as we hurtle into the uncertainties of the Undiscovered Country. However, the need for promoting the public interest and public science through the media remains as urgent as ever.
Science writer Nalaka Gunawardene dreams of being a news reporter again and meanwhile blogs at http://movingimages.wordpress.com