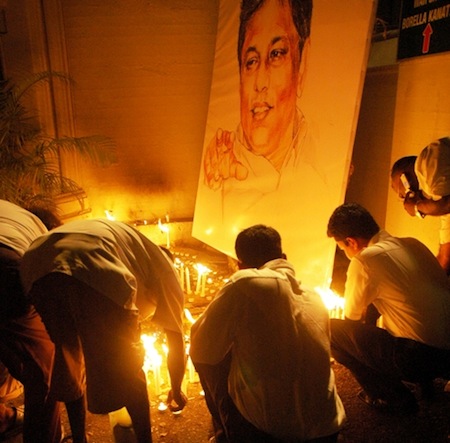 Image courtesy Canadian Committee for Press Freedom
Two years ago in Ratmalana – the suburb of Colombo I grew up in – Lasantha Wickremetunge was murdered in broad daylight. Every weekend, as I pass the spot he was killed on the way to see my parents, I wonder how many others remember him today, the significance of that place, his work, life or legacy.

Photos taken from the memorial service held in the morning at Lasantha's grave in Colombo. Courtesy Vikalpa
Groundviews published a number of articles, including poems by award winning poets, condemning Lasantha's murder and celebrating his life. In Memoriam: Lasantha Wickremetunge, Editor in Chief, Sunday Leader is a collection of this writing, and the debates they generated that are still, tragically, resonant today.
Following Lasantha's murder, our website transformed to black for a week, as a mark of protest and defiance. In March 2009, we reproduced in full a letter from Sonali Samarasinghe, herself a senior journalist at the Sunday Leader, to the Inspector General of Police, asking him to record 'very important details' known to the Sri Lankan President and at least one other senior government minister, based on the minister's own admission, pertaining to the identity of her husband Lasantha Wickremetunge's killers. Groundviews was told that no other newspaper in Sri Lanka was willing to carry this letter in full at the time. Writing again a year after her husband's death, Sonali noted,
"It is indeed remarkable that despite the climate of total impunity for attacks on journalists and their places of work, there still exists that small but indomitable minority of scribes and editors in the ever-diminishing independent media… Our duty today then, is to extend to this minority of brave people all the support we can muster. We must speak out for freedom. If we fail in this duty now Lasantha, and all those who have paid the supreme price for the liberty that we ourselves enjoy, will have died in vain. History judges harshly, and future generations must not point to us and say it was we who failed them. We must not fail."
Today, Reporters Without Borders (RSF) noted that it is,
"…appalled by the fact that the Sri Lankan government is doing nothing to solve this murder and in fact is clearly preventing the truth from coming to light. By blocking the investigation and by fostering a climate of impunity and indifference, the government has become an accomplice."
Just one thing wrong with the RSF's take. The Rajapaksa government was always an accomplice in this murder.