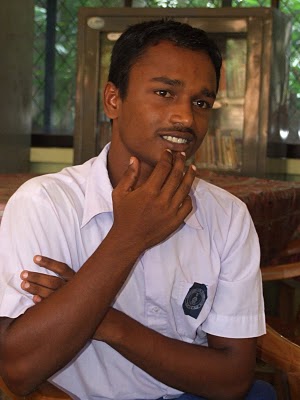 Velupillai Yesupalan feels empty and withdrawn
Velupillai Yesupalan (16) seems nervous and unsettled as he waits at his school during the morning break~ drinks interval as it is called here in Jaffna. He wears a pair of Dark Blue shorts, White short sleeve shirt with the school batch stitched on the pocket of the shirt on left. A pair of his Black shoes removed and kept outside the library of his school. Normally shoes are removed when entering the library, because it is compared to a shrine and considered sacred. Feet covered with a pair of Cotton socks upto his knee are fixed firmly to the Grey cement floor. He takes a while to settle down and talk to me. He is a Grade 11 student of Kondavil Hindu Maha Vidyalayam in Jaffna district, North of Sri Lanka.
"I do not have a father. He was killed during the war. I feel sad and depressed, because I am fatherless. My father is my role model. I want to be like my father, who was helpful to others despite many setbacks" emotionally shares Velupillai Yesupalan as he continuously bites his right hand finger nails, and tears pour through his both eyes and roll down quickly through his tender cheeks.
His family is originally from Thellipalai, moved to Thirunelvely, Iranaimadu, Vallipuram and Puthukkudiyiruppu due to war. They are currently occupying the station master's quarters in Kondavil.
"My mother works hard to look after us carefully. She tries very hard to feed us with three meals. She is becoming old and finds it hard to do a lot of work. I have three younger brothers and a younger sister. Since, I am the eldest in the family, I have to take care of my mother and siblings. I am trying to study hard and pass the exams, but I get disturbed when I think of my dear father" continues Velupillai Yesupalan.
He rarely talks and plays with his fellow students and friends. He stays reserved.
"My favourite game is cricket. I used to play with my father. Now, I rarely play with my younger brothers. My dream is to become a school teacher" continues Velupillai Yesupalan as he adjusts the school badge on his shirt pocket.