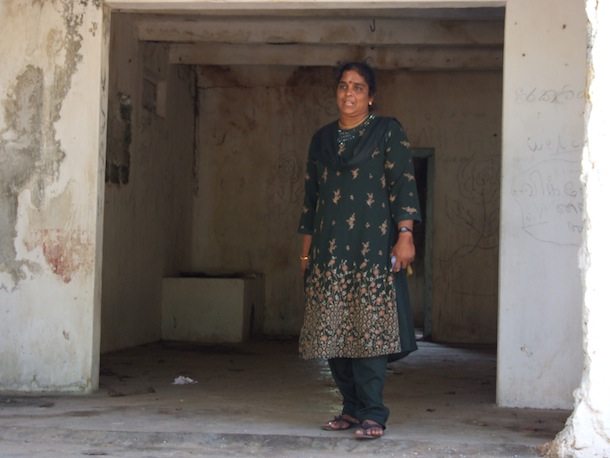 Jalajakumari Selvarasa is convinced and lives daily with hope
Jalajakumari Selvarasa (41) is very duty conscious in a bottle green traditional Shalwar Kameez. She sits at the entrance of the women's side of the springs, and gives the instructions in Tamil to the devotees who visit "Keerimalai" springs in Jaffna district, North of Sri Lanka. She shows the way with her shiny smile to the new comers here in "Keerimalai".
Keerimalai literally translates Mongoose Hill in English. Naguleswaram temple is one of the five hallowed Lord Sivan temples (Panchcha Ishwaram) in Sri Lanka. Naguleswaram temple is situated here in "Keerimalai", which is 50 feet above the main sea level.
"I am happy to be here and help the devotees. It is a sacred place and sanctity should be maintained at all times. I am doing a small service to the community" says Jalajakumari Selvarasa while wearing a cotton cap to compete with the balmy weather here in "Keerimalai" .
Red vermilion called "Pottu" (dot) is placed on her forehead and pair of Silver toe rings on her feet show that she is married. A sharp line of holy ash on her forehead and a multi colour holy thread on her left wrist show her strong spirituality.
She has five children~ 2 sons and 3 daughters. She got displaced several times due to war. She lived in "Pandatharippu" and "Vanni". She currently lives in Alavetty in a rented house. Her house in "Keerimalai" stands still and empty with names written in English, Sinhala and Tamil and pictures painted in colour.
"Displacement has become a part of my life. I initially got displaced in 1983 from our house in Keerimalai, during the heavy fighting between the security forces and Tamil Tiger rebels known as Liberation Tigers of Tamil Eelam. My house falls under the High Security Zone (HSZ) in "Keerimalai". Now, I get to see my house everyday when I come here for my duty. But I could often feel the nostalgia. I am looking forward to a day, when I will be able to live in my hometown again with my family. I hope and pray that, the day is not too far. I have a few dreams to come true, one is returning to my hometown and live with my family and serve the God" shares Jalajakumari Selvarasa with her unambiguous hope flickering in her heart.