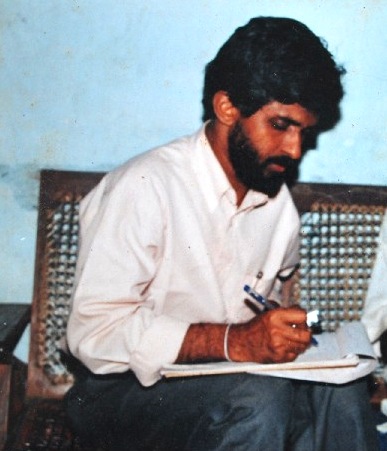 Battered and bleeding, journalist Poddala Jayantha lay on his hospital bed when we visited him on June 2, 2009. He was lucky to be alive after being brutally assaulted by a group of unidentified assailants just the previous day.
This was a terrible time for the Sri Lankan media.  Personally, I was struggling to recover from the shock of losing my former editor Lasantha Wickrematunge to the tyranny of the powerful. I was not alone. It was shared grief in a year that recorded a series of violent acts against journalists and media workers. 2009 was annus horibilis for Sri Lankan journalism.
Perhaps for clinical analysts, the attack on Poddala was simply one in a series, though a conspicuous one. Â There was a difference.
Wickrematunge's life was simply snuffed out, J.S. Tissainayagam was arrested under the draconian Prevention of Terrorism Act (PTA) together with his colleagues.  The then Rivira Editor Upali Tennakoon was knifed and the then Editor of Sudaroli N. Vithyatharan abducted and later released.
Instead of killing Poddala, the attackers chose to let him live with his broken bones and a spirit they thought by then cracked. Poddala was to serve as a living reminder of the price for dissent, a warning so clear.
His eyes filled with pain, Poddala that day simply held my hands and muttered "sometimes I wonder why we struggle so much for people who betray us and defeat our causes. Yet I still believe that ideals cannot be compromised". As his courageous journalism and integrity receive international recognition today, I recall the determination in his voice that day.
Poddala was a fiery investigative journalist who pursued the higher ideals in public-spirited journalism. As a journalist, he pushed himself, fellow journalists and activists as well as the limitations imposed by the State-run newspaper where a culture of subservience prevailed.
The stature he earned as a respected journalist and a media activist brought him not just fame but very powerful enemies. On June 1 2009, he was brutally assaulted.  That incident altered his life completely and drove him away from his country and from journalism towards a life of an exiled scribe.
Today, November 12 is a significant day for him.  The prestigious Integrity Award 2010 was conferred upon him today by Transparency International at a glittering ceremony in Bangkok.
An unmistakable parallel springs to my mind.  Exactly a decade ago, it was another dissenting Sri Lankan journalist, Lasantha Wickrematunge who won the first Integrity Award. There could be other parallels that spring to mind too. Yet it should not dishearten anyone that Lasantha was made to prematurely lie in a grave and that Poddala suffers from permanent damage to his limbs.
Of course, Lasantha worked in the English language and was a successful editor and a journalist of international repute. Poddala on the other hand worked in the local Sinahala language within the terrible confines of a State-run editorial as desk editor.
That is also why Poddala's contribution to journalism is significant. The excuse hovering on the lips of most State media practitioners is that self-censorship is the norm and how impossible it is to fight it.  Poddala's example clearly demonstrates that one can in fact fight it. He demonstrated that excellence in journalism was possible within State media institutions, the appalling internal politics notwithstanding.
Admittedly, we belong to a duplicitous and divided media community. This has aided politicians to divide journalists into various camps and to play one colleague against another. Poddala was well aware of this ugly reality.  He knew that as much as we demand accountability from others, that the industry is infested by those who sell opinions for a bottle of spirits, foreign trips or expensive gifts.  It was Poddala who promoted the concept of an integrity pledge for journalists and campaigned for a policy on gifts.
And what prompted him to demand accountability through his writing with such zeal?  Poddala openly spoke of his humble beginnings and how much every rupee mattered to his own family and to the poor people in his village. It made him demand that every rupee meant for public spending be spent on that purpose and be accounted for.  For him, pioneering causes, promoting ethics and selflessly committing himself to media activism came naturally.  For Poddala, journalism was a way of life, not a livelihood.
With the escalation of violence against journalists, dozens of committed journalists were forced out of Sri Lanka in a bid to save their lives. There were also those who used the opportunity to flee Sri Lanka claiming imaginary threats.
Poddala in my opinion made a miscalculation. He went away for a short while after the brutal murder of Lasantha Wickrematunge and returned soon afterwards.  Many others, who left with him, chose not to return, sensing possible violence against them in the event of a quick return.
When I telephoned Poddala to share the joyous news of him being the Integrity Award winner 2010, his voice cracked: "I just wish I could work with you all again, wish I could write again and live in Sri Lanka again."  I do know that Poddala still harbours hopes of returning home, to the industry he lived for and continues to love.
An award may not make a difference to his exiled existence today. Exiled journalists do not have too many choices or opportunities to grow. Circumstances have denied Poddala the opportunity to travel to Bangkok and receive his award. Yet, it will serve him as a reminder that the world is not blind to those who lead by example and the integrity he has demonstrated merits respect and recognition.