The word Eelamist (as adjective or noun) refers to a person or organisation which supports the Tamil separatist cause in Sri Lanka. Like certain other -ist words (Zionist, Islamist, Loyalist), the word is loaded with political connotations – an article of faith for some, a term of abuse for others. But it is also used in serious political discourse, for example in these quotes from Groundviews:
"Sri Lanka's pressing security interest of neutralizing Eelamist activism abroad." (from here)
"If by 'Tamil politicians' Mr. Dayasiri is referring only to the Eelamist elements within the TNA," (from here)
"Groups supportive of the TGTE and Eelamist propaganda are getting increasingly vocal" (from here)
I remember being surprised when I first saw a Tamil children's alphabet book with a map of Sri Lanka labelled Eelam. But of course Eelam is the original Tamil word for the whole island, now referred to as Ilangei. Both words are derived from the same origin as the Sinhala name Lanka and the English name Ceylon, though which came first (Eelam or Lanka) is still a matter of dispute.
Nowadays of course Eelam (or Tamil Eelam) normally refers to the separate state in the North and East of Sri Lanka claimed by the LTTE and other separatist groups. In LTTE maps this state covered about a third of the island, including the west coast all the way down to Puttalam, and the east coast all the way down to Kataragama. Eelam was first declared a separate state in 1990 by the short-lived EPRLF administration under Varatharajah Perumal. Later it became a reality of sorts under the LTTE, with Kilinochchi as its capital.
The word Eelam is commonly used in English-language contexts, for example in the names of Tamil militant and/or political organisations such as LTTE (Liberation Tigers of Tamil Eelam), TELO (Tamil Eelam Liberation Organisation), EPDP (Eelam People's Democratic Party), EPRLF (Eelam People's Revolutionary Liberation Front), EROS (Eelam Revolutionary Organisation of Students) and PLOTE (People's Liberation Organisation of Tamil Eelam). Even in Tamil, these organisations are commonly known by their English abbreviations.
The word is also used in the term Eelam War, which has become a common way to refer to the war, and especially to its different stages: Eelam War I (1983-1987), Eelam War II (1990-1995), Eelam War III (1995-2002) and Eelam War IV (2006-2009). Sri Lankan commentators often use the term Eelam War rather than the alternative Sri Lankan Civil War, which is more common in international contexts. Both terms may be seen as problematic depending on one's point of view: Eelam War because it implicitly defines the conflict in Tamil separatist terms, and Sri Lankan Civil War because it elevates the conflict to something more than just a war on terrorism.
###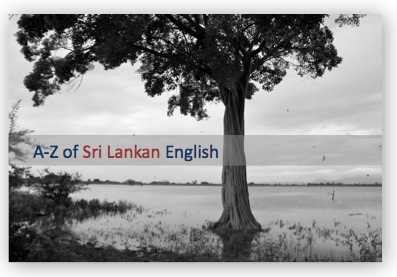 A-Z of Sri Lankan English is an all-new, occasional alphabetical dip into the variety of English spoken in Sri Lanka, published exclusively on Groundviews. The original A-Z of Sri Lankan English was published in the travelsrilanka magazine, and can be found here.