I have been invited to make some comments on the late founder-leader of the Liberal Party of Sri Lanka, Dr. Chanaka Amaratunga, on the occasion of the anniversary of his birth that falls on the 19th of April. I am pleased to do so. I had a bitter-sweet relationship with him, the bitterness arising only from our different political perceptions. The memories of our personal friendship shall always remain fragrant. Despite my political disagreements with him, I always felt, and continue to feel, that Chanaka's untimely demise is a tangible loss to Sri Lanka as he had so much to give us. Thus my focus on our political differences in this brief essay is only to put the record straight and not to devalue Chanka in anyway.
I joined the Council for Liberal Democracy (CLD) in 1984/5 when Rajiva Wijesinha introduced me to Chanaka Amaratunga and the rest of the stalwarts of the CLD. I was struck by the stimulating political debates that took place within the CLD and among the individual members of it. Chanka was faithful to liberal principles enunciated by all significant liberal thinkers but particularly so to those of John Stuart Mill whom he was quite fond of quoting at the drop of a hat. No essay or speech of his was complete without reference to Mill. A charming and engaging person, Chanaka was a delightful conversationalist. I remember quite fondly the evenings spent with Chanaka, Rohan Edrisinha, Asitha Perera, 'Sara' Saravanamuttu (whenever he was home from London) and  Jith Peiris (a most entertaining story teller) dissecting  Sri Lankan and international politics over bottles of wine and spirits. Not infrequently our debates and discussions drifted to books we had read and enjoyed. Most of our get- togethers took place at the office of the CLD at 12, Castle Lane, Colombo 4 (which later became the headquarters of the Liberal Party). The Arts Centre Club at the Lionel Wendt Memorial Theatre premises was another favourite. As only a few of us owned cars in those days, I recall (on days a lift home was unavailable) walking back home in the wee hours of the morning with Nigel Hatch (I used to reside then at Siebel Avenue, Colombo 5 and Nigel in Colombo 6), especially after dinners at Asitha's home down Police Park Avenue.
The highlights of our CLD days were the series of seminars that we organised on constitutional reform and the publication of the Liberal Review edited by Rajiva and Chanaka to which all of us contributed. The striking feature of those seminar series was that notable politicians of all hues and academics from diverse fields participated in them. Participants included Marxists like Dr. Colvin R. de Silva and Dr.Vikramabahu Karunaratne, right-wingers such as N.U. Jayewardena, Lalith Athulathmudali and Gamini Disanayaka and those-in-between like Sam Wijesinha, Neelan Tiruchelvam, Kumar Ponnambalam, Nissanka Wijeyeratne and Dr. C.R. de Silva among others. Several journalists, civil society activists and members of the clergy (I remember vividly the late Revd. Celestine Fernando) also were among the invitees. The outcome of this mammoth exercise is the scholarly tome produced by the CLD titled Towards Constitutional Reform. Chanaka laboured long and hard to edit this significant publication. Anyone seriously interested in constitutional reform in Sri Lanka should find perusing Chanaka's mighty labour of love most profitable and useful. The Liberal Review was a hard hitting, penetratingly analytical and carefully edited journal. Chanaka and Rajiva were particularly close to a few of the United National Party political stalwarts of the day and so the Liberal Review was not without scoops and useful bits of inside information!
Chanaka had very clear political goals and ambitions. He was passionately interested in entering Parliament and playing a prominent role in public life. Although the CLD did contribute its mite to refine the political debate of the era, he was not content to remain a mere watchdog and a critical observer of the passing political scene. He wanted very much to be in the thick of things. It was, therefore, a matter of time before the Liberal Party was formed. The key office bearers of the CLD formed the bulk of the National Committee of the newly formed Liberal Party that came into being in 1987. In addition, we now had others like Chandana Ukwatte, Harim Pieris and Sita Wijeykoon in our midst.
This is not the occasion to attempt to write a history of the Liberal Party or assess its contribution to Sri Lanka. This is simply a glance backwards on the occasion of what might have been Chanaka's 52nd birthday. Suffice it to say that both the CLD and the Liberal Party were primarily Chanaka's creations and that they benefited enormously from his formidable intelligence, enthusiasm and relentless hunger for public office. Chanaka was a lovable person and hence it was easy to overlook his   human limitations and foibles. It is my opinion that his insatiable appetite for a role in the political arena of our country made him make one compromise too many. In our several heart-to-heart chats, I warned him of the dangers a small entity like the Liberal Party would have to face in joining a big political outfit. He was adamant that it was only by doing so that the Liberal Party could make its presence felt. Perhaps in his extreme keenness to seek the political limelight, he was willing to run the risk of compromise and assimilation. Given my aversion to direct participation in politics, I was perhaps content to seek to refine the political debate from the sidelines. Or perhaps I may have been more amenable to a marriage of different political minds. Thus Chanaka and I were two parallel lines that were never going to meet. In the end, I think it was Chanaka's decision to go with R.Peremadasa's UNP that split the Liberal Party down the middle. Asitha, Rajiva and Chanaka thought it was through an alliance with the post-J.R. Jayewardene UNP that the Liberal Party could contribute best to national prosperity and progress. It may have been their awareness of our strong reservations about the UNP that made Chanaka, Rajiva and Asitha keep some of us in the dark  – – an illiberal act, in my view, at the best of times – – about their secret negotiations with Sirisena Cooray and the others. And it was only upon reading the Sunday Observer one morning that I came to know, much to my disappointment, that an alliance had indeed  been forged by the Liberal Party with the UNP of that time. Chanaka made the formal announcement of the alliance at the very next meeting of the National Committee meeting of the Liberal Party. Immediately thereafter, Sara and I resigned from the National Committee and the Party although we remained members of the CLD. About a month later, Rohan also resigned.
Destiny had more tricks up her sleeve. With the assassination of President Premadasa in May 1993, Chanaka was once again left without a major political patron. Â He and the Liberal Party made further compromises and together with Asitha ended up in the National List of the Sri Lanka Muslim Congress in 1995. Despite the carefully laid plans, due to a combination of political intrigue and personal animosities, Chanaka lost out on the best opportunity he had up to that time of entering Parliament.
Not very long thereafter, Sri Lanka lost an invaluable liberal democrat when Chanaka died tragically and prematurely in a motor accident. Had he lived and entered Parliament, his presence in and contributions to political debate within it would have raised the stature of our national legislature immeasurably as was the case when fellow-Oxonians, the late S.W.R.D. Banadaranaike, Lalith Athulathmudali and Lakshman Kadirgamar graced our legislature in their day. Chanka was a consensus builder and, in trule liberal fashion, used to reach out to those with political opinons and philosophies different from his own. His extensive knowledge of Politics, Philosophy, Economics and International Affairs and his devotion to parliamentary tradition would have helped educate his colleagues. Both by example and precept, he would also have made a noteworthy contribution to the maintenance of the dignity and sanctity of Parliament.
When we reflect on the illiberal times we are living in today, we feel even more keenly Chanaka's absence from our political landscape. Were he with us today, he would surely have argued as passionately for national reconciliation and political power-sharing as he did then. He would also have fought resolutely against the violation of the freedom of the individual regardless of whichever quarter it originated from. I salute the memory of a fellow-liberal democrat and a fine friend.
###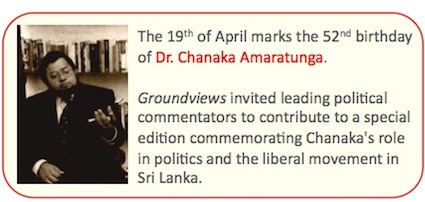 The 19th of April was the 52nd birthday of Dr. Chanaka Amaratunga, the founder of the Liberal Party of Sri Lanka. Groundviews invited leading political commentators to contribute to a special edition commemorating Chanaka's role in politics and the liberal movement in Sri Lanka.
Other essays in this series include: