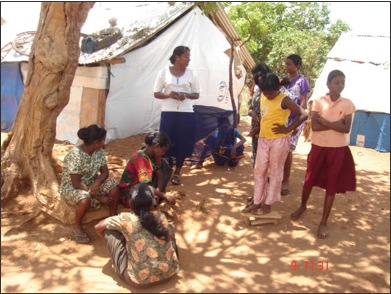 Due to the civil war that erupted in the Trincomalee District between the LTTE and the Government forces, the families that had been living at Muthur and Sam poor areas had been displaced to different locations of Trincomalee District in the Eastern Province of Sri Lanka. Due to this displacement the day to day life of these families had been affected badly along with Education, Culture, and Economy etc; a representative of CHA had visited one of the IDP's camp on 12..2.2008 and they shared some of their pathetic stories with me.
1. I was able to meet Mr. P.Shanmuganathan who is the leader of the IDP's camp at Konesapuri in the Trincomalee Town and Gravets D.S. Division. He told me "that due to the fight between the LTTE and the Government forces he had been displaced for more than a year, loosing all is basic facilities. To safe card my life and my family I was compelled to leave from our village, leaving all our belongings and I took shelter in a neighbouring village. The situation in this village was also the same and I decided to leave to Batticaloa. When we reached Batticaloa we were given some relief and assistance by the Government and the NGOs there. We were very grateful to the assistance that was provided for us.
Although we lived there the Government had decided that we should be resettled to our former places and we were sent to Trincomalee where we were settled at Konesapuri IDP's Camp in the Trincomalee Town & Gravets D.S. Division. My family and I along with the others were settled in this camp, and we had to face untold hard ships. ZOA Refugee Care was supplying drinking water by bowzers to the IDP's here, and at the present situation this is also been stopped. This is also causing difficulties to us, as we have to go very far to collect water from the wells for our use. The water problem is causing hardships to the school children who find it difficult in washing their clothing. In the earlier days we used to go to the neighboruring villages to earn an income by doing some domestic work, this too is not available these days, and we find it very difficult to have a good meal.
World Food Programme with the coordination of the divisional Secretariat was providing some ration to the IDP's monthly, this too is not sufficient for us. At the beginning there were many NGO's who were visiting our camps and they had helped us in many ways, but now they do not visit us .We do not know as to who could help us to lead a happy and contended life. Our Grama Nildhari too is doing his duties that have been entrusted to him. Some of the IDP's that had been living in this camp prefer to go to Pattithidal and Kiliveddy transitional shelters, as they will not have drinking water problems there. If somebody can come forward to provide us with the transport facilities to the above places we would be prepared to go. The last request from Mr. Shanmuganathan was that he wanted somebody to come forward and help them to regain the peaceful life that they had been leading at Sampoor.
2. At this IDP's camp I was able to speak to one of the students named Miss T. Thivya who is studying at Athimodai School and she related her difficulties that she is undergoing after been displaced from Muthur I am attending the above school and I have to walk the distance which takes about an hour. In certain days I have nobody to accompany me, and I go all alone. Some times if I am late to school I avoid going, and remain at home. I do not take much interest in my studies, because when I think and see my parents and relatives suffer in difficulties, I consider my studies to be of no value. When we were in our earlier places we were happy to go to school and it was a close by distance, and we had our good friends who were very helpful .At this place we are lonely and as we are IDP's we are less considered. I do not know as when the time would permit me to meet and be happy with my old companions. This life that I lead here is miserable and frightful, with all these in my mind how can a student like me concentrate on my studies cried that girl Miss. T. Thivya.