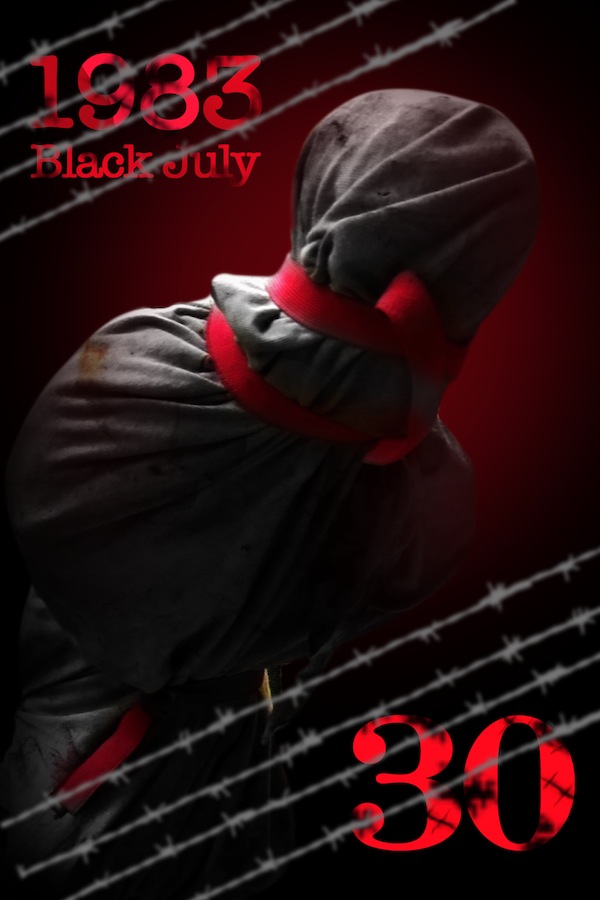 Keep the memories alive
July 1983 was a turning point for many Sri Lankan Tamils to leave the motherland, and seek refuge in various countries including India, Australia, United Kingdom, Canada, United States of America, France, Switzerland, Denmark, Germany, New Zealand, and so on. Tamils who have either lost their family members or properties during the 1983 July pogrom, were forced to leave the land with endless haunting memories. Many of my beloved and blood relatives (brothers, paternal aunts and uncles, maternal aunts and uncles, and cousins) too have decided to leave Sri Lanka after suffering losses (of lives, identities and properties), displacement and trauma. One such relative has agreed to share his unforgettable memories of Black July with me, although he lives in a western country, he misses his home, going through never ending nostalgia, and haunting memories which don't allow him to return to what he still calls a "home".
"I remember the month of July 1983 every year and its horror in Sri Lanka  30 years ago. We as Tamils lived peacefully in Bambalapitty, Colombo since 1950. On a peaceful day on 23rd of July 1983, we got up early morning to our phone ringing, and warning us of a mob attack of Tamil shops and homes in Borella that night after the ceremonial funeral of 13 army soldiers who were killed in Thirunelvely, Jaffna.  Although road blocks were set up, and curfew was imposed, killing and burning alive of Tamils in the heart of Colombo, looting of Tamil houses and shops continued unchecked. Some Sinhala Catholics and Muslims extended their helping hands towards the targeted Tamil community, but a larger portion of people from other communities remained silent! 

I have lost two of my closest friends including a shop owner. Despite fear and risk, I have decided to go and help the fellow Tamils who have sought refuge at a few camps set up in Hindu temples and halls in Colombo.  I was the last to leave from Colombo to Jaffna by ship, because I was nursing a Tamil woman who was brutally attacked and injured. Her father was killed, and her house was razed to the ground by fire and mob attack. She was physically and psychologically unfit due to unexpected loss of her beloved father. I tried to console her, but it was far beyond even trying. I managed to accompany her to Jaffna by ship on a long journey. After having handed her to relatives, I went to my house and I lived in Jaffna for awhile. But, continued discrimination and suspicion towards the Tamils in Sri Lanka, and not equally respecting my identity as a "Tamil" made me feel as a stranger in the same land! I have decided to leave Sri Lanka, and settle in a foreign land for safety, security, equality, respect, and mutual understanding and respect for my own identity" 
It's noteworthy that many Tamils who have left the land or remained in Sri Lanka are reluctant to recall their memories of horror. These ghostly memories are beyond imagination!