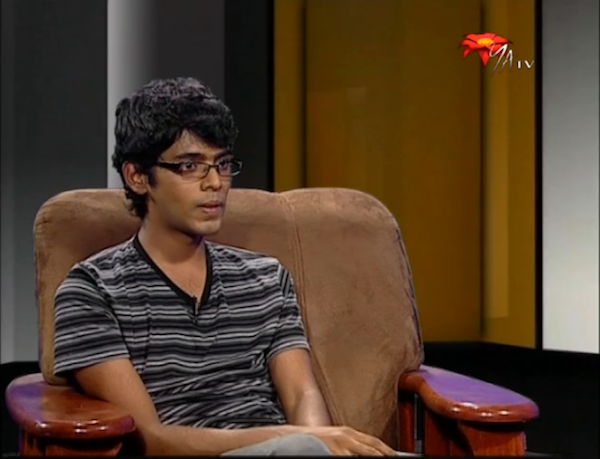 Michael Mendis is the winner of the 2013 Commonwealth Short Story Prize for Asia. 'The Sarong-Man in the Old House, and an Incubus for a Rainy Night' can be read in full on Granta.
Upon winning the prestigious prize, Michael averred,
"Although writing, for me, is inherently a personal exercise, involving a distillation of private thoughts and private confusions, this Prize implies that the end product resonates with the world outside. Validation is important; it reaffirms the possibility of my having a voice, and adds to the chorus of Asian voices that profess our continent's vibrant diversity."
We begin our conversation by asking Michael how it felt to have won such a prestigious prize, especially as an hitherto unpublished author. We then go into how the prize winning short story, written by Michael in 2011, came about. Michael reveals that he started writing in Sinhala when he was 14 years old, and explains how his writing evolved. We talk about how, after winning the prize, his short story was received by a larger readership, including by past winners. Michael goes into why he submitted the story to the Commonwealth Prize, and how competitive the prize was, with around 2,000 submissions in total.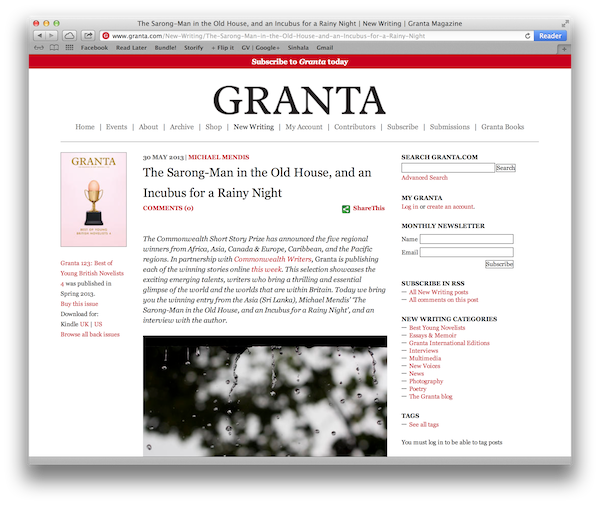 In response to a question around the author's need for validation, Michael goes into why it is important for him to know how his writing resonates with a larger audience. We go into Michael's formative years and how his writing was perceived by his immediate family. Michael, currently a student of law, then goes into why he will never consider becoming a full-time or professional writing. He then goes into some detail about what, for him, is the 'Sri Lankan-ness' he seeks to infuse into his writing.
Given Michael's more recent blog posts, which are around Sri Lanka's growing Islamophobia, we explore what it was like for him to not grow up in a Sri Lanka coloured by the bheeshana yugaya of the JVP insurrection or the anti-Tamil pogrom in July 1983, and instead engage with the country's violent past through received memories and tele-visual media.
Michael's early writing, published on his blog, is quite dark and we go into why this is case, and what social issues framed his writing at time. Towards the end of the conversation Michael reveals how he writes what he does, and the process he goes through in order to produce his final work.
We end with Michael's thoughts around a candlelit vigil in Colombo, against extremism, that was brutally broken up by the Police. Michael, who was part of the group that demonstrated against the Bodu Bala Sena, went on to write a detailed blog post. In our conversation Michael looks back at this post, and what drove him to write it and be associated, openly and at great risk, with those standing up against the likes of the BBS.
Editors note: Also see interview with Nayomi Munaweera, winner of 2013 Commonwealth Book Prize for Asia, here.