Dinner review
Jack Tree, Park Rd., Col 5

Gray cement all around, dark green trim (to emulate a Jak tree no doubt), with red elements reflected in the staff uniforms, combined with screened off seating, give it a retro rather than modern look as far away from an imagined Thailand as you can get.
Service on an avg. Monday is quick and efficient. The fresh juices: Mango, Passion Fruit, Ambarella & Lime are equally delicious – tangy and not over-sweet. The Pandung leaf chicken starter is moist and flavorsome while the trio of Mushrooms is indistinguish-ably disguised in deep-fried batter. Ginger fish is lightly battered & redolent with ginger, Eggplant w/Tofu – firm & tasty, the Kankun crisp & crunchy while not being drowned in sauce. Chicken in green curry sauce was disappointing, as it arrived with a thick, coconut cream gravy without enough green! The sizzling cuttlefish while tender and delectable, hid in a plate of veg, making me wish I hadn't ordered my flat noodles with veggies. Practically all the dishes are loaded w/ generous servings of capsicums & onions some-what like the middle class Chinese restaurants of old where whatever you ordered came w/plenty of these! The extensive menu features the salads etc. that Thai cuisine is famed for. Copious portions. Priced at around Rs. 2,000 per head. Take away option available.
Book highlight
Chilli, Chicks & Heart Attacks Rs. 900
Sanjaya Senanayake
Though Senanayake is quick to point out that these stories are not autobiographical, it is clear that he has used his experience of growing up within a South Asian family in a Westernized country & as a doctor training within the Australian hospital system to imagine these colourful characters & vivid storylines, infused with the insight provided by living within two cultures. Presented in the form of a personal diary, Chilli, Chicks & Heart Attacks is a light-hearted, rollicking, comical tale following the internship year of its shy, charming, testosterone-charged protagonist, Dr. Manjula Mendis through mishaps & misadventures, thru plots and subplots, family drama and romance culminating in success. This is the first novel from the true-life physician-cum-author, Sanjaya Senanayake.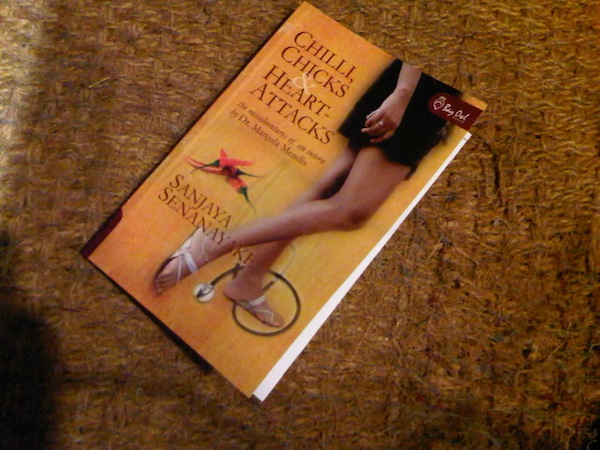 Image credit The Oxymoron Chronicles
Events
19:00 EXHIBITION, Salvage, recycle & rehabilitate: project creating re-cycled jewellery & art from discarded material (until 18 March).
V: Saskia Fernando Gallery
T: 7429010 (FREE) (Follow gallerist Saskia Fernando's Twitter account for more updates)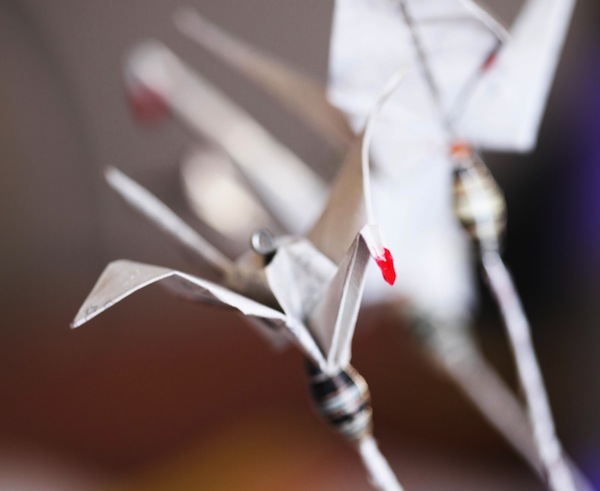 Image from Saskia Fernando Gallery
14 March (Wed)
16:00 BOOKS, the Hi Book Club discusses CRUSOE by Katherine Frank & explores the author's assertion that Robinson Crusoe was inspired by the life of Robert Knox.
Pay for eats.
V: Hilton – Spoons (FREE)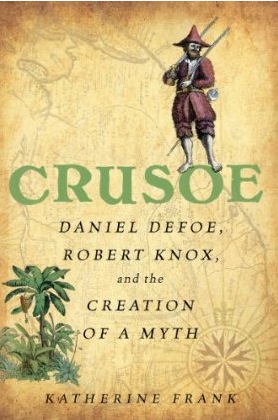 18:00 MUSIC & DANCE, Nav Pratibha 2012 – a display of new talents in Indian classical music & dance.
V: Bishops College
T: 2684898 for invitations
18:30 MUSIC, Classical music concert by violinist Lidia Baich
V: Lionel Wendt (TKTS)
T: 2695794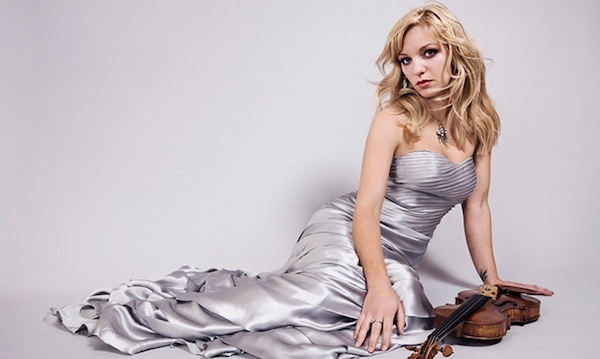 15 March (Thu)
19:30 MUSIC, the indefatigable De Lanerolle Brothers whose popularity seems to keep them in great demand, perform in concert. Nostalgia.
V: Galadari (TKTS 4500)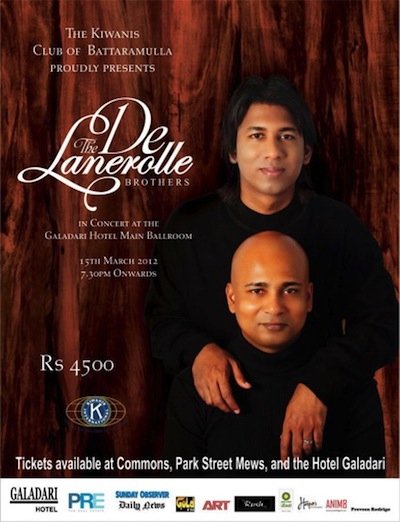 16 March (Fri)
19:00 DANCE DRAMA, Shango Shango Shango ho! – another tempest –based on the Sinhala translation of Aime Cesaire's Une Tempete, itself a post-colonial re-write of William Shakespeare's Tempest, performed by the Arpeggio Creative Dance Academy.
V: Lionel Wendt (Ticket pricing and details here)
T: 2694562
17 March (Sat)
18:00 DANCE, Nirmanika or architectonics explores various aspects of Indian temple architecture through Bharata natyam dance. Performed by Apsaras Singapore. Details here.
Entry by free Invitation
V: Kathiresan Hall (FREE)
T: 777314425 or 777274859
19:00 MUSIC, The Colombo Trio performs Brahms, Gliere, Arensky – featuring Eshanta Pieris, Ananda Dabare & Dushyanti Perera
V: Lionel Wendt (TKTS 500 to 1000)
18 March (Sun)
EXHIBITION, Artwork by Kumara Rathnayake
V: Lionel Wendt
18:00 DRAMA, Dramatize 2012 performed by schools: Ladies, DS Senanayake, Musaeus, British, Methodist, Visaka & Sirimavo Bandaranaike.
V: Bishops College (TKTS)
T: 0756562637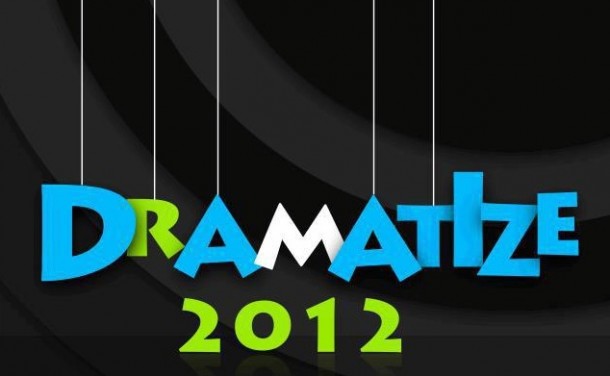 19:00 ENTERTAINMENT
Geoff & Friends featuring Purple Rain. Light, variety.
V: Hilton (TKTS)
T: 0712724526
19 March (Mon)
18:00 MUSIC, Ghazal recital by Dr. Kumud Diwan famed for her Banarasi style.
V: Ananda College (Kularatne)
T: 11 2684898 for invitations
###
Culture & culture is based on the fortnightly email newsletter, Culture Vulture. It is a selective, non exhaustive, non-comprehensive listing of Colombo's cultural offerings. Its views are un-biased but totally subjective.