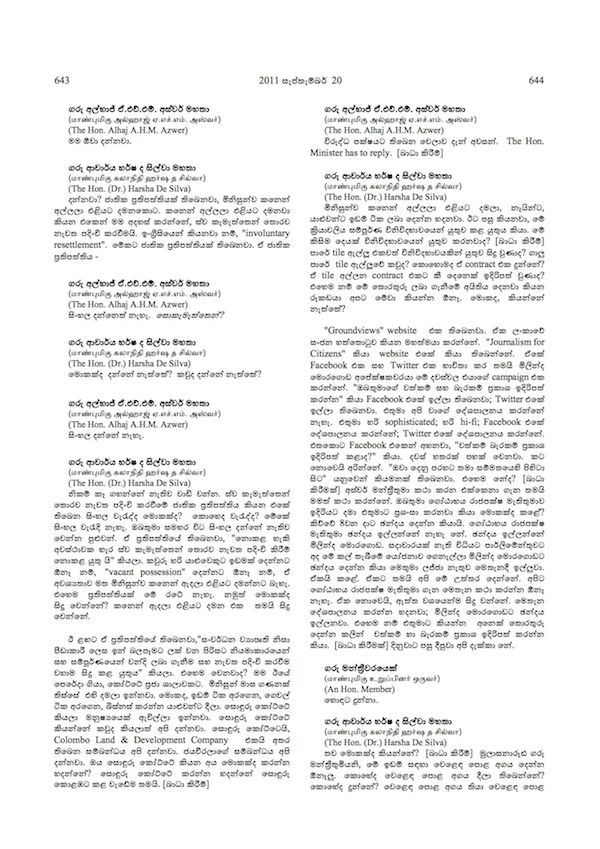 The Hansard of 20th September 2011 records a question posed by Dr. Harsha de Silva in Parliament over the campaign finances and the asset declaration of Mayoral candidate Milinda Moragoda. See high resolution image here. Download the Hansard from 20th September as a PDF here.
Dr. de Silva flags questions repeatedly via Facebook and Twitter Groundviews posed to the Moragoda campaign on these issues, all to no avail. Milinda Moragoda: The gap between promise and reality catalogues the disconnect between what Moragoda says and actually does in more detail. In Why is Right to Information in the Moragoda Mayoral Manifesto? Prof. Rohan Samarajiva, the Head of the Policy Planning Group, Milinda for Mayor Campaign, flags Moragoda's commitment to the Right to Information (RTI) and ends with a plea to support him on this score. Dr. de Silva, who at the time of writing is the head of the Sri Jayawardenepura Kotte Municipal Council (SJKMC) campaign committee for the UNP notes in Local government elections: Military puppeteers, elected puppets, right to information and people's liberties his deep scepticism over the Moragoda campaign's RTI promises.
A rough translation to English of Dr. de Silva's comments in Parliament follows. Only the relevant sentences are translated from Sinhala.
"There is the Groundviews website. It is done by the Sri Lankan Sanjana Hattotuwa. The site notes it is "Journalism for Citizens". Milinda Moragoda is using Facebook and Twitter for his campaign. Groundviews has asked (Moragoda) to "declare his assets and liabilities" on Facebook. They have asked this on Twitter. Moragoda doesn't do politics like us. He is very sophisticated. Very hifi. He does politics on Facebook. He does politics on Twitter. On Facebook it is asked of him "Did you declare your assets"? This has been asked for four or five days. He does not open his mouth. There is a saying "Preach to others only when one is principled". Isn't that so?… Gotabaya Rajapaksa is not standing for elections. It is Milinda Moragoda who is standing for elections… Please tell Mr. Moragoda that before he gives out other information he can start with declaring his assets and liabilities."
Other bloggers have asked the same question. No answer.
Others on Twitter, like Nalaka, Anupama, Roel and Thilina have asked the same question. Repeatedly. Yet, no answer.
Indi Samarajiva, Moragoda's web media manager has been asked the same question on his personal blog. No answer.
Prof. Rohan Samarajiva, the head of Moragoda's Policy Planning Group has been repeatedly asked the question over many web fora. The answer? Bizarrely calling existing election law hypothetical and that Moragoda will reveal his assets and liabilities (one is really asked to believe) if and when elected. Inter alia, given the present antics of the campaign to illegally use CMC hoardings (State property) for electioneering, this is particularly rich.
In fact, I along with many others have been kicked out of the Moragoda Facebook page for flagging these and other hard questions. As Roel notes on Twitter,
Awful and familiar. That about captures the Moragoda campaign to date. But surely, doesn't Colombo deserve the unfamiliarity of a candidate who eschews hypocrisy and expedient politics to really practice what he preaches?
###
Also read Fundamental questions for AJM Muzammil and the UNP