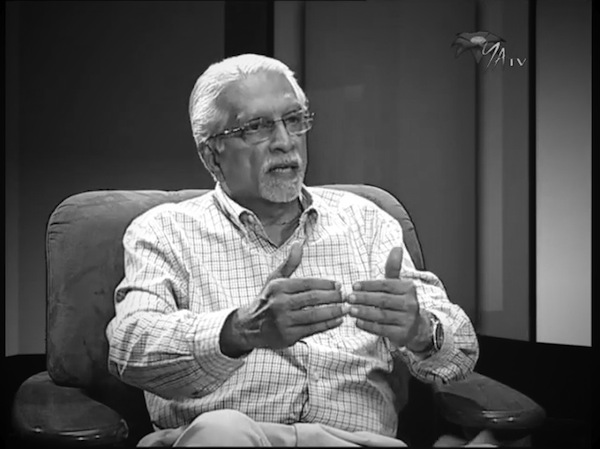 The Daily Mirror a few days ago noted that in a bid to ease the growing human-elephant conflict in the country, the Wildlife Conservation Department had undertaken moves to restrict the habitat of rogue elephants to a 2500 acre jungle area in Veheragala, Lunugamvehera and Horawapathana. Quoting the Wildlife Conservation Department's Director General, Chandrawansa Pathiraja, the paper noted that rogue elephants from other areas would be trans-located to these locations, which will be bordered with electric fencing.
Similar efforts, however, in the past have failed. Jayantha Jayewardene is the Managing Trustee of the Biodiversity and Elephant Conservation Trust shared some thoughts on the human-elephant conflict in Sri Lanka on a televised interviewed.
We begin our conversation by looking at precisely why there is a human-elephant conflict in Sri Lanka, looking at the issues over land use (framing) and demarcation (fencing and other means). Giving a detailed explanation of the nature and extent of the home range and the size of the herd that inhabits it, Jayantha looks into the reasons why elephants are increasingly attacking villagers, and damaging villages.
This is a serious issue. Over 10 years, there have been over 1,300 elephants that have been killed and on average, over 60 humans a year for the past 15 years are killed by elephants.
Jayantha makes the point that there is no guarantee of success when translocating an elephant or herd, and gives the example of one tusker who travelled back over 100 miles, crossed a river and went back to the area he was moved from. Jayantha also speaks about the problem of habituation, when elephants become more aggressive over time and get used to the means to drive them away, like bright lights and firecrackers.
Another challenge he points out is the almost complete lack of coordination and collaboration between various line ministries responsible for the environment and wildlife. Countering the assertion of the Wildlife Conservation Department's Director General, Chandrawansa Pathiraja that electric fencing is enough to keep elephants within their new territory, Jayantha submits that over time, these fences are often neglected and that on occasion, the villagers themselves take the wire away for their own use. Tragically, he also notes that some drunk villagers also decide, in a moment of bacchanalic bravado, to take on the elephants, with predictable consequences.
Noting that much could be learnt on how to tackle the human-elephant conflict by looking at examples from South and South-East Asia, also stating that even those most affected by the violence are against culling them, and just want a clear demarcation of territory.
Jayantha ends by sharing some thoughts on the future of elephant conservation, and how what is a very emotional issue needs dispassionate, pragmatic solutions.