Less that a kilometre away from a cluster of government offices in Puttalam dedicated to the welfare of Muslim IDPs is the home of thirty one year old Madeena, her jobless husband and six children.
The small, completely cadjan thatched hut, teeters upon the mercy of the weather. It is one of the temporary shelters in the string of camps for the DPs, which dot Puttalam.
Madeena's camp, a vast barren land which faces the Puttalam Saltern, is known as Saltern 01 and houses 120 families.  It has the most difficult living conditions and is adjacent to the camp, called Saltern 2, which has 65 families. In both the camps the houses are made of either wood or cadjan. In Madeena's home the walls, roof and door are all a mass of mildew because there is no money to replace the cadjan.
If one stoops enough to enter the shack streaks of sunlight filtering through the rain decayed coconut cadjan would fall on the faces of six children sleeping away their hunger on the cold and broken cement floor.  If it is monsoon time, these children would be huddling in a corner with rainwater sweeping over and under them.
"When we were chased from our homes we were only allowed to take our travel fare out of the north. All our jewelry and money were taken away by the LTTE. We were reduced to begging. And that is how we lived for eighteen years in this camp," says Madeen of Jaffna.
The ethnic cleansing of Jaffna was carried out when the LTTE had control of the peninsula in 1990. Today, Jaffna is under military control, but is virtually empty of Muslims, with no concentrated effort being taken to resettle them. While it is clear that living in their former homeland would not be easy under the present war situation, life in Puttalam is no better.
For the IDP families of Puttalam jobs are a luxury.
Madeen's chest ailment prevents him from taking the only job easily available at the Puttalam saltern which pays Rs. 20 for hoisting 60 kilograms of salt from the salt beds to the store house, over a stretch of about 150 metres.
Help, in scanty proportions does arrive, but it does not change the status quo. Over the years, NGOs have assisted in procuring roofing sheets and in the construction of wells for the camps and in the building of a few brick houses in the camp. But these are a mere trickle in the context of the difficulties faced by these people.
"Some left for Jaffna during the peace talks between 2002 and 2005 looking for jobs. But we did not because we thought that we too would have to return like many of those who went home but came back to this camp saying they could not have access to their land which were now occupied by Tamil families. Others returned because their homes in Jaffna were turned to rubble in the thirty year old war," Madeen says.
Not having the money to construct their houses anew in the land of origin, these families are back in Puttalam, living the lives of permanent refugees and battling to find the few available manual jobs.
For Ismath Inun Samath, chosen as the leader of the Saltern 1 camp by its residents, the return to Jaffna had proved slightly more successful. But his story too is that of a man forced to abandon the land he owned, and live in abject poverty.
"My home is in Osmania town, a predominantly Muslim area in Jaffna. Soon after the ceasefire between the Sri Lankan government and the LTTE in 2002 February and the subsequent agreement signed between the Sri Lanka Muslim Congress (SLMC) Leader Rauff Hakeem and the LTTE leader Vellupillai Prabhakaran, my father, mother, brother and I left for Jaffna. We wished to see if we could earn a living by buying and selling old household goods."
"We did not face any major problem with the LTTE and did well in the first two years after the ceasefire. There were many expatriate Tamils returning from abroad for short visits who dispensed with foreign goods when they left", recalls Samath.
It is with the money earned during the peace process that Samath had managed to pay Rs. 20,000 for 5 perches of government owned land in the Saltern camp in Puttalam.
"My family had land and a partially bombed house in Jaffna which we repaired as best as we could after we went there during the ceasefire, but we had no permanent guarantee that our home would continue to be accessible for us if the conflict restarted," he explains.  Now, with the A9 highway, the only land route linking the North and the rest of the country, closed for the past two years, Jaffna is once again an illusion for Samath.
Therefore, like all others in the camp, Samath had used every cent he had saved to buy land in Puttalam. The effort to legally own land in Puttalam had been prompted by a housing project that is to be completed in 2011. World Bank is to assist the  construction of  7,850 permanent houses in IDP camps in Puttalam. The project is covering only those who had land deeds indicating ownership.
"People in this camp saved money by skipping their already frugal meals," he says. Today, almost every family has a deed to their name, but that is about all they have.
Seated in the small compound in front of Samath's home, I am invited to drink a jug of well water. I am warned that it would not be like the well or tap water available in Colombo. The water certainly did not taste like anything found in the capital or any other area in the country. It was salty in the extreme.
And this is what the IDPs in the vicinity of the Puttalam saltern are forced to drink if they miss the two hour drinking water service provided through the single tap outside the camp bordering the road.
Tap water facility is available for an hour in the morning from 6.30 to 7.30, and then for another hour in the evening from 5.30 to 6.30. Since this water is only meant for drinking, for all other needs, the IDPs make do with the well water which is so salty that it is unfit to be used for even washing.
It is lack of money that keeps these jobless IDPs from getting piped water.
Pointing to the Palmyra fence that separates his residence from the others, S. M. Jinnah, whose original home is in the LTTE-controlled region of Kilinochchi, says that the water pipe runs along his camp about 5 feet from the border. But to get a connection, Jinnah and the rest of those occupying the camp, have to pay Rs. 20,000.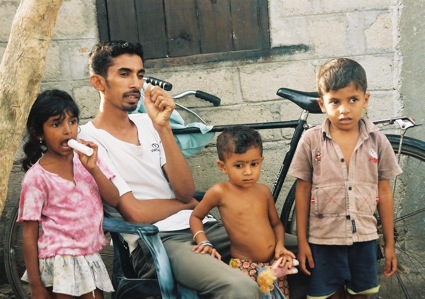 S.M. Jinnah seated in front of his home
 
"I have no more money. I saved and borrowed and begged for work to pay for this land and to build a single room brick home with a proper zinc roof for my children," says Jinnah whose house is one of four in the Saltern 01 camp which is made of brick.
Toilets too are another luxury. For both the Saltern 1 and 2 camps, which have 230 houses, there are a little over 90 toilets, some constructed with the assistance of some NGOs  and others crudely made by the residents themselves. The latter are unhygienic.
Around 3 kilometers away from the Puttalam saltern camps is Thillady, an excessively  dry area where there is an acute water crisis. Over 3,000 families from Jaffna and Killinochchi live in temporary shelters made mostly of wood or cadjan. In Thillady, the shacks are spread over a vast area unlike in Saltern 1 and 2.  Therefore, the overall living conditions seem to be more hygienic. In this area, 55 families had received land deeds in 1994 from Minister Douglas Devananda, who is presently Minister of Social Services and Social Welfare, for a nominal amount of Rs. 2,500 (25 USD).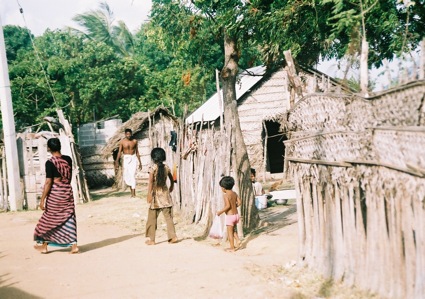 The Saltern 1 Camp in Puttalam
 
"We received ten perches of land for Rs. 2,500.But there is no water here. To get even a little water we have to dig over sixty feet," says Saleem Sansi from Jaffna, pointing to a deep well which is practically dry.
"There are no taps at all. The situation is so bad that people from other areas in Puttalam where the water facility exists, do a business here, selling water. A can of 30 litres of water goes for ten rupees, and a four-member family would need about three cans per day," he explains.
Although these families live far below the poverty line, none of them, especially in the camps with the worst conditions such as Saltern 01 or 2, whom this writer spoke to, gets the food stamps provided by the government. The food stamps are worth a maximum of Rs. 1,260 (12.3 USD) for a five member family.
"There are various regulations, and sometimes, some families are suddenly cut off the list. Since the amount is very small, many do not make much effort to meet government officials to rectify the omissions. We have not been getting these food stamps for years now," says Waseel a sixty seven year old widow whose husband was shot by the LTTE in 1990. She now looks after her widowed sister's children with money she gets by begging in Puttalam town.
There is a vast difference between the lifestyles of the IDPs from Kilinochchi, Mullaitivu, Jaffna and Vavuniya and those of the north western Mannar district. The reason is political.
While the IDP's of Mannar have a Muslim government representative, the Minister of Resettlement and Disaster Relief Services, Rishad Bathiudeen, from their district, the residents of other northern areas don't.
Displaced persons from Mannar have used this political link to transform themselves from jobless refugees to job holders. They are mostly located in the Karambe area, around 5 kilometres from Puttalam, in high walled residences, with many of them holding well paying government jobs.
"We do not have a Muslim Minister from either Kilinochchi or Jaffna to work for our welfare. This is why we have to pay Rs. 20,000 for piped water to be supplied while the Muslims displaced from Mannar, who have a Minister from Mannar, have to pay a mere Rs. 2,500 to get the tap service to their homes," says S. Mohammed, father of four children in the Saltern whose entire savings had gone into building a brick toilet.
"We want government officials to either settle us in our own lands in government controlled territory in the North, or give us some basic facilities here in Puttalam so we can live like human beings," Mohammed says, jabbing at a picture published in a local newspaper mid last year which shows several important government ministers and dignitaries visiting the camp.
"In Karambe, you will find luxury houses having been built for those who already own houses in other parts of Sri Lanka. It is these peoples' names who were sent up when a project for 600 houses was initiated with the help of the UAE government," alleges the Secretary of the Northern Muslim Rights Organisation, Maulavi Sufian.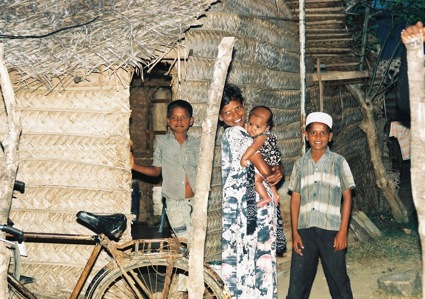 Home
 
The Minister for Resettlement and Disaster Relief Services, Rishad Bathiudeen, denies that he discriminates between the Muslims of Mannar and those of Jaffna and Kilinochchi.
"There are still many from Mannar who are also in a difficult situation," Bathiudeen claims. But he has no answer to the question as to why Muslim legislators did not take active steps in the ceasefire of 2002 – 2005 to resettle northern Muslims who wanted to go to their homes in the North.
At the Secretariat for Displaced Muslims, the sight which greets one is a stark contrast to what is witnessed in the IDP camps. There are many offices and around 150 officials who are at their desks purportedly attending to the needs of the Muslim IDPs. The Commissioner at the Secretariat for Displaced Muslims, M. Muhais, and Government Agent for Puttalam, Kingsley Fernando, insist that the government is 'doing its best' to solve the peoples' problems.
Meanwhile, there is yet another issue which complicates matters for the displaced community of the North.  Deputy Minister for Livestock Development, K. Bais, who is a Muslim from Puttalam, has reservations about the resettlement of northern Muslims in Puttalam. He makes no secret of his view. He thinks it is the Puttalam Muslims who are discriminated against.
"The Muslims from the North, whether it be from Mannar or Jaffna or Kilinochchi or Vavuniya, have all got land now in Puttalam, but there are so many Puttalam Muslims who do not have their own homes or land," says Bais. He claims that NGOs are paying "much attention" to the Northern IDP's and that Muslims 'originally from Puttalam are
"ignored".
In this background, M. M.Kuthoos, the head of a new political party launched early this year says the fight for the rights of the Northern displaced Muslims will go on.
"The People's Revival Front was inaugurated in March this year to give political representation for the IDP's from Jaffna and other northern areas where they have no political representation," says M. M. Kuthoos, a seventy five year old IDP from Jaffna who served as Deputy Director of Education from 1993 to 1996.
"Jaffna is the land of our birth. What our party wants is to fight for our right to live and die in Jaffna and in the other four areas of the North from where we were chased out," he says. But he admits that the struggle might be a long one.
"Children who were born after 1990 do not know what Jaffna is. There is talk of devolution of power and a political settlement. In such a situation we want that our rights are looked into. The North, although predominantly Tamil, had a very strong Muslim presence for centuries. In the 1980s, there were three Muslim members in the Jaffna Council. There were towns and areas in the peninsula which were identified by Muslim names and completely occupied by Muslims. People talk of violation of human rights. Who talks of the violation of human rights of northern Muslims who have been living in Puttalam for the past
eighteen years in unbearable conditions? What has been done for them during the five year peace process? queries Kuthoos.
In a country that spends around Sri Lankan Rupees 117 billion on the war against the Tamil Tiger rebels and depends on foreign aid for its development activities, government officials bemoan that it is lack of funds that prevents them from giving the IDPs housing and other basic facilities.
"I want to build up to 14,000 houses for the displaced community but we are still trying to secure the money from foreign donors," says Minister Rishad Bathiudeen.
With international criticism against Sri Lanka for alleged rights abuses such as abductions and disappearances in the backdrop of war, doubt hovers on the possibility of obtaining further foreign funds.
With no clear government policy on how to effectively deal with the hundreds of Muslims in Puttalam still categorized as internal refugees, and no streamlining or comprehensive government supervision of NGO assistance to this community, the question that these Northern Muslims seek an answer to is how long they would have to live in deprivation.