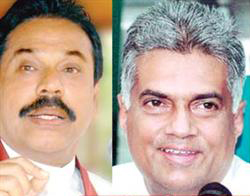 I am variously labeled in the media and was most recently called a traitor. Not the first time I've heard it and won't be the last, but this time, it was because it was noted by some in the State media that those who made representations at the UN's Human Rights Council in March were engaged in a vast, NGO driven conspiracy to tarnish the good name of the Government and the Sri Lankan State.
I go back to 1990, and an interview with Mahinda Rajapaksa, who was then the Secretary of a Parliamentary Committee on Fundamental and Human Rights, followed by the response of the self-proclaimed doyen of human rights today, Ranil Wickremesinghe.
After going back to these statements of the two the highest public officials in the country today, I don't know whether to laugh or cry. Mahinda's pro-NGO stance in the 90's and Ranil's negation of human rights are an interesting foil to judge what they say and do today.
Read my full article, in Sinhala, here.